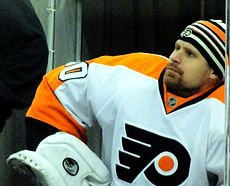 EDMONTON – Part-time goalie and full-time astronomer Ilya Bryzgalov is now able to make his first start for the Edmonton Oilers, after a police background check cleared him to play with Children and Vulnerable Adults.
"We've heard rumours about Breezy and we wanted to make sure they were just rumours before we played him with our kids in Edmonton," Oilers General Manager Craig McTavish said before today's warm-up. "I mean we wanted to improve our goaltending, but we need to make sure guys like Hall don't end up bottling up their urine in the hope of creating an elixir of youth, making magic goal potions based on chimpanzee bones, or healing lotions composed of marmalade and laxatives."
Bryzgalov did not take the police check situation personally, but rather used the time to become acclimatized to Edmonton.
"While I was waiting for the police check, I was able to bear-proof my condo here in Edmonton and put tinfoil in all my windows to save me from space dangers. I don't want anyone stealing my thoughts or secret … never mind."