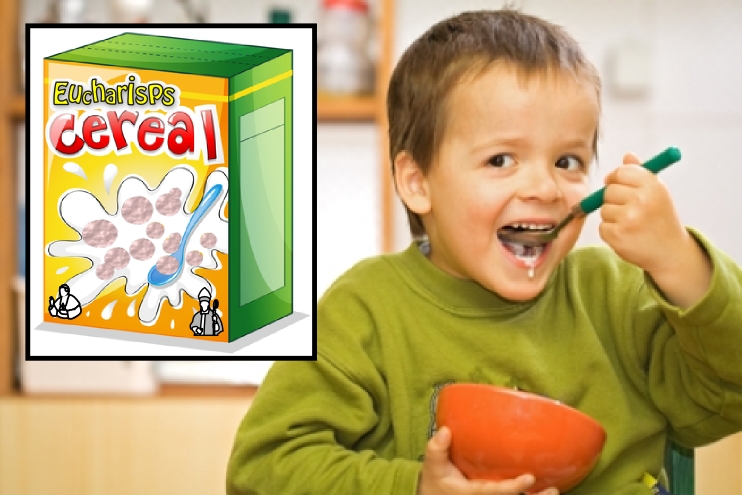 THE HOLY SEE – The Catholic Church has released a new breakfast cereal, Eucharisps, that contains 50% of your daily moral fibre. The church claims the crispy wafer-chip cereal is blessed, infallible and full of vitamin B-12.
The Eucharist-shaped cereal was developed by Pope Francis I in response to the influence of heretical breakfast cereal symbols and mascots developed by "atheists, fornicators and blasphemers" and to ensure that Christians have a cereal that keeps them morally regular.
"This cereal is blessed by the Holy Spirit and will give good Christians a guilt-free breakfast," said Cardinal Thomas Christopher Collins. "We have finally responded to the poisonous, pagan symbols of Lucky Charms and leprechauns which seduce young Catholic minds. Special K is a cereal developed by radical feminists that promotes the idea that women should be losing weight rather than having their husbands' babies. And let's not forget the dangerous animist symbols of Tony the Tiger and Toucan Sam."
"Plus, it's full of sugar," Collins said.
The Church is instructing all good Christians to eat the wafer-chip cereal every day and twice on Sunday and during Lent. The added moral fibre provides good Catholics with holy feelings such as self-righteousness, grace and the courage to oppose abortion. When you add milk, it instantly turns into wine. It's a Catholic breakfast miracle!
Each box of Eucharisps also comes with its own prize including a thorny crown, a rosary and a miniature maze of all twelve of the stations of the cross.
Pope Francis I was originally selected to be the mascot on the cereal box, but consumers continually mistook the 76-year-old pontiff for Count Chocula.