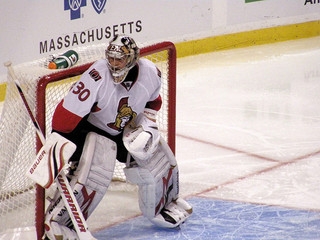 VANCOUVER –  Having seen his own team eliminated in the first round, Canucks fan Andre Deschampes must decide whether having a Canadian team in the finals is worth the pain and embarrassment of that team being the Ottawa Senators.
The Senators are the sole remaining Canadian team in the playoffs due to previous disappointing performances by the Canucks and Montreal Canadiens, and a 7th game collapse by the Toronto Maple Leafs that in hindsight was both unbelievable and incredibly appropriate for that franchise.
"The Leafs came so close," said Deschampes. "I thought at least there would be a chance of bringing the Cup back to a part of Canada that hasn't perfected the concept of boredom."
Beyond having to root for a city that travel guides have declared "exists," and "has an NHL team," Deschampes was reluctant to support the Senators players themselves.
"Just because they play for a Canadian city I'm suddenly supposed to root for foreign players like Daniel Alfredson, Erik Karlsson and Chris Neil?"
When informed Chris Neil was in fact Canadian Deschampes replied, "Really? With a face like that I just assumed he was born pressed against a soviet manufactured radiator while the chernobyl meltdown was going on."
Deschampes' lack of support may be moot, as the Senators trail the Pittsburgh Penguins 3 games to 1 in their series. Nevertheless, self-described Ottawa "super fan" Josiah Williams expressed nothing but confidence that his team would make it through.
"We just gotta beat the Penguins 3 games in a row, how hard could it be?  But they gotta do it fast, because I want to get home in time to watch 'Come Dine With Me Canada'" said Williams.
At press time, Deschampes remained on the fence with his support. "I just don't know. I love Canada, but what have things come to when we're relying on Ottawa to deliver positive benefits to the Canadian people?"