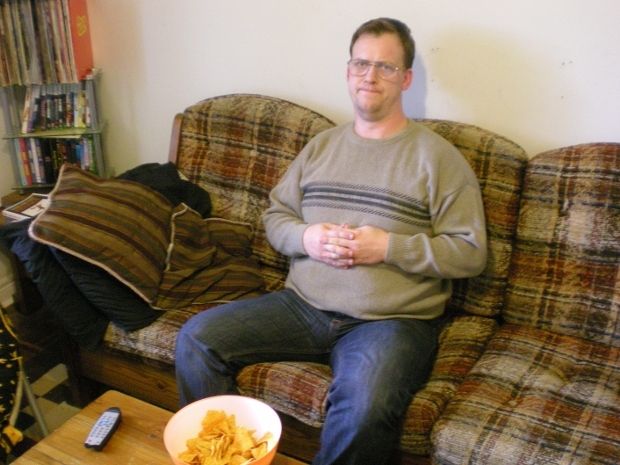 SCARBOROUGH, ON – After watching a comedy special featuring several top comics, 36-year-old suburbanite Peter Wisken made a formal announcement Thursday evening regarding his long-held belief that he has "more wit in [his] left pinky" than most comedians do in "both their funny bones."
"Any entertainer, really," clarified the father of three, who went on to lament the industry's decline in quality. "When I was younger, comedy was actually funny. Gallagher. Howie Mandell. The Ernest Films. That stuff was just classic. I don't know what happened."
Wisken, who describes himself as a member of the "funny-elite," has in the past produced several humorous articles for his high school newspaper, The Recess Bell. As well, he attended "more than two and less than five" comedy improvisation classes during his college-level business training.
"I was a great improviser, but people didn't get me," Wisken said. "I would just kill these scenes, but nobody was smart enough to laugh properly. I'm talking choice bits, like acting retarded, or doing an accent. I had a black friend of a friend who would do this thing with his lips, and I thought that was so funny. I'd do it onstage using this perfect Jamaican accent I learned from [Disney`s] Cool Runnings. But people just weren't ready."
According to his wife, Stephanie—one of Wiskin's biggest supporters—Wisken is often the center of attention at social gatherings.
"He just gets going and people love it. They back away to give him room," Stephanie said. "When he gets into his Pakistani cab driver impression, people go ballistic. Not laughing out loud, of course. That's bush league comedy. My husband's brand of humour is more sophisticated.
Added Stephanie: "I've seen people leave the party, trying so hard not to crack a smile."
To date, Wisken claims he has been unable to pursue a career in comedy due to the financial burden of a mortgage and four dependents. In the foreseeable future, Wiskin believes it is unlikely he will have the opportunity to confirm his opinion that he is, in fact, superior to most professional entertainers.
"It's just not in the cards for me due to other commitments," he said. "Sometimes great talents are not destined to rub shoulders with their equals."
However, Wisken believes he can still give back to the community by offering advice to young comedians when necessary. "Sometimes I'll watch an amateur stand-up show and think, 'This is not funny.' And I don't have time to stick around and give feedback after, so I'll just yell out whether the guy stinks or not," Wisken said in regards to his mentoring process. "Sometimes the comics will pretend to get mad, but it's all an act for the rabble. It's all part of the biz."
Currently, Wisken is focusing on his short game in the sport of golf, which he said is "actually pretty hard compared to being hilarious," and climbing the ladder at his workplace, a customer feedback reporting firm.
"Sure, I think of great bits all the time," Wisken said. "Just yesterday I thought of changing the lyrics of that Justin Bieber song 'Baby, Baby,' to 'Rabies, Rabies.' Whatever, maybe I'll develop it, maybe I won't. These days I'm mostly about helping performers get better by telling them what sucks. It's a little thing I can do to elevate the art form. It feels good to give back to my peers."