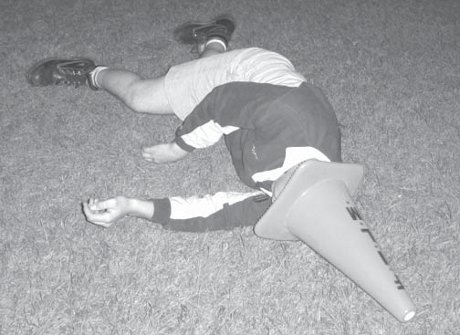 By Martin 'Figs' Figlinsky
My friends, I have to tell you, this year's frosh celebration was really awesome! The University of Toronto has really topped itself. This was by far one of their best frosh celebrations ever. I should know; I have been a frosh for the last 10 years in a row.
That may look like a typo to most, but all my friends and family know that I'm addicted to the spirit of frosh week. Just a few days ago, when I called my good friend Tommy
Sheppard to tell him all the cool stuff we did at this years events, he came right out and called me a "Frosh Party Animal." Tommy's the coolest. I met him when I was a frosh in '99. He's just one of the many cool friends I have made over the years.
For those of you that missed it, some of this year's good times included: getting dressed up in fat suits and fighting like sumo wrestlers, watching a hypnotist make a girl believe
she was Britney Spears, and getting really wasted at the engineering party at Fort York.
I thought I was going to go blind I was so wasted! I downed eight beers in the first hour and that was pretty good considering how much I pre-drank at Jamie Mitchell's house party.
Once the bouncers kicked me out, I walked over to the Lakeshore and barricaded the road with metal fencing and yelled: "Frosh spirit, suckas!" at all the cabbies who got out of their cars. Then I got a little lonesome, so I found a pylon and wore it on my head (as a disguise) to sneak back into the engineering party. It worked! Everyone started calling me the "Pylon Man." I got a lot of free drinks after that – too many. I must have blanked out hard 'cause I woke up the next morning in a ditch. But that's what frosh is all about, my friends. I can't wait till next September comes around so I can do it all over again, for the eleventh time in a row.
I still remember my very first year being a frosh, exactly one decade ago. Oh man, saying that out loud sounds weird; I can't believe I'm going to be thirty soon. Shouts out to my first ever frosh leaders Teddy Walmsley and Bobby Pazula. You guys really showed me how to party like a university student should. I will never forget the tricks you taught me with the funnel.
Some of you might wonder how I get to be Frosh year after year. Well, shortly after my very first frosh week, school lost all its charm. I dropped out a few months later and took a high–status job at the Mr. Christie plant. I thought I had found my niche.
Then September rolled around again, and some of my friends started telling me I should give school another shot. Julian, my friend from high school who was working with me at Mr. Christie during the summer, made a joke that it would be funny if I were a frosh again 'cause he was going to be a leader that year.
My friends, am I ever glad I listened to him. Jules, I don't know what you are up to
these days, but if you ever need a job, you can come back and work with me at the plant; I'll be a supervisor starting this winter. I'm sorry again that I kissed your girlfriend the one time on high school prom night. And a couple of times more during the summer. And the night of commencement as well, but I never told you about that time.
Now, frosh week has become a yearly tradition for me. Every year I re-register for school, book off work for the first week of September, and start counting the days until I can kick some serious frosh party-ass! Then, after the week is over, I log onto ROSI
and drop all my classes. It's funny, because I always pick weird classes like 'Parasitic Helminths and Arthropods', 'Evian Biology' or 'Wittgenstein'. Who's taking this stuff,
really? Not me. Get a life.
My boss at work, Mr. Mervin, tells me that I'm wasting my vacation time when I sign up for the week of fun at the University, and that I should use my week off to go someplace exotic like Mexico. But he doesn't know what it is to be a frosh. He's just bitter that
he was never college material like me. And why would I spend all that money on airplane tickets, hotel rooms, and travel toiletries, when I can buy a frosh kit for $80 and have the time of my life right here in good old Toronto, Ontario, voted one of the best cities in the
world!
Anyway, frosh week has become a way of life for me. It's an escape from lugging around heavy boxes full of cookies 12 hours a day, 4 days a week. Sure, I've thought about completing my education; moving up in the workforce; maybe starting my own
business. But then I tell myself, "Could I really go on knowing that I could never be a frosh again?" Where else can you recreate the feeling you get from frosh week? Feeling like you're shedding an old layer of skin, breaking out of your cocoon, putting behind you five years of grade school shenanigans, and looking forward to a prestigious four years of higher education and a world of limitless possibilities.
You find a place, then we'll talk.
I thought winning 35 bucks at the EX casino this summer would have been the highlight of my year. But nope, you frosh coordinators managed to outdo yourselves once again. My kudos to you. See you next year.