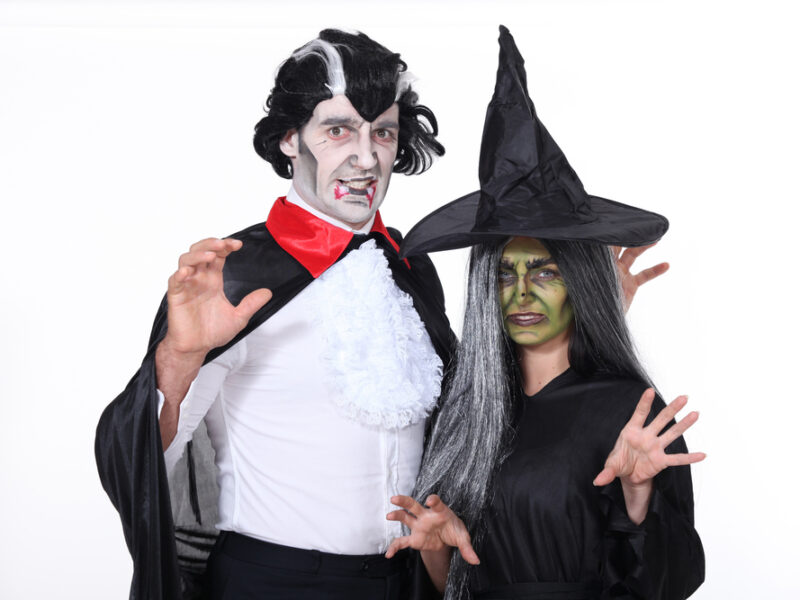 It's been a rocky pandemic, and breaking up with your significant other who you've fallen out of love with, and moving out just seems like a big hassle this year. Not to mention, couples costumes are so much cuter, more creative, and more Instagram worthy than a single costume. What, are you gonna be Calvin without Hobbes? That's just a man in a T-shirt! So, find someone who will do as your new partner, and pick one of these couples costumes that say "we're only dating for the couples costume."
1. Sandy & Danny from Grease
This is a classic! It gives both halves of the couple a chance to be hyper-masculine or hyper-feminine for the night without the gender norm toxicity from either side! Wrap up the night by showing everyone your rehearsed Hand Jive dance, but not a real "hand jive" if you know what I mean.
2. Carpool Karaoke
One person's the car, the other, a karaoke machine. Once people put the pieces together of what you're supposed to be, they'll laugh, and laugh, and laugh! This costume is just as creative as James Corden's interpretation of roles in his entire filmography. Anytime anyone asks how long you two have been dating, just start singing any Harry Styles song and you're Golden.
3. Pennywise & Georgie from IT
One's a killer clown, the other, an innocent little boy in a yellow rain jacket. You two won't be able to keep your hands on each other! The thought of these two canoodling is more disturbing than Pennywise as that spider thing in the second movie. I'm gonna barf! Go all out on the makeup to be the best dressed of the night. The scarier, the better. It'll give "Georgie" a reason to run away from "Pennywise" whenever you see each other.
4. Velma & Scooby Doo
Arguably the two characters in the franchise that have the least in common, this will be perfect to show off some sewing skills while not having to "doo" anything together throughout the night. Bonus points if your Scooby is a man, everyone knows Velma is probably a lesbian so she has no business sniffing up his tree!
5. Squid Game participant and guard
Dressing up as characters from the hottest show of the year is definitely what'll win you that costume prize! Plus if your other half is pissing you off, play a game of freeze tag and leave them in a corner all night, still, unmoving, for if they do…bang bang.
6. Two Ron Weasleys
Yes, you can both be Ron Weasley and have it still be considered a couple's costume. Finding the right red wig is the real challenge, but once you have that, you'll be the talk of the town! If anyone tries to use logic saying, "The second one is just Hermione on polyjuice potion," respond with, "Even then, Ron wouldn't kiss her when she looks like him, you fool, he has no ego and only cares about helping his friends. You dumbass, you idiot." Protip: This also gives you a free pass to make out with anyone dressed as Hermione because that's just canon.