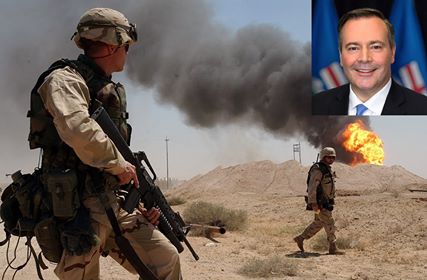 EDMONTON – Alberta Premier Jason Kenney says that Alberta's oil and gas industry will be back on its feet after four bloody and prolonged conflicts in the Middle East.
With the price of crude still under $70 per barrel, Kenney remains hopeful that millions of people will live in suffering and agony while it disrupts the global supply of crude on a few more occasions like Iran's 1979 Revolution or the 2003 invasion of Iraq.
"People throughout the region resistant to war should really consider the hardworking oil and gas workers of this province who keep the lights on," said the Premier. "I am confident that the US, Iran, Saudi Arabia, and others will find a lasting path to war."
The UCP leader believes the region hasn't yet reached peak human-misery.
"Just a few more millions of deaths and we'll be back to selling ethical oil at $120 per barrel in no time," added Kenney.
Kenney is also hopeful that a large pandemic will knock out the US domestic production of oil, especially in the largest oil producing states like Texas and Alaska to give Kenney's province "The Alberta Advantage."
Meanwhile, in a touching ceremony that expressed hope, members from the Canadian Energy Centre released a pair of hawks.