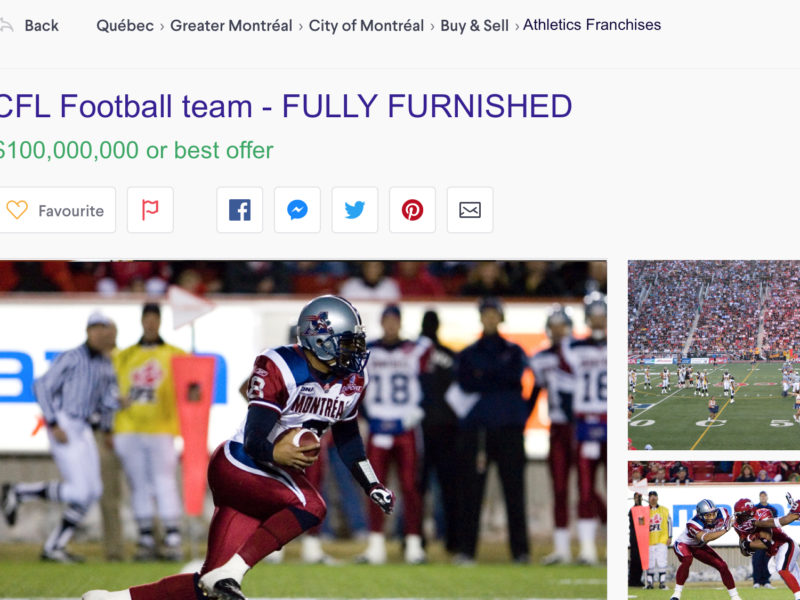 MONTREAL — In an attempt to entice an offer for the Montreal Alouettes, of which the Canadian Football League has recently taken ownership and has been struggling to find a potential buyer, the League has decided to offer the team fully furnished.
"When considering a purchase of a CFL franchise the first thing most people think is 'But moving is such a pain'," stated CFL commissioner Randy Ambrosie. "But we want to take that worry away from potential buyers by offering the team with all essential house fittings and white goods. Now all they have to worry about is competing with the far more popular and financially stable leagues."
The Kijiji ad for the team describes "great square footage", "perfect as a starter team", "close to great nightlife" and boasts that the Percival Molson Memorial Stadium is subject to Montreal's rent control rules. Agents have been advising potential purchasers that they could offer below asking.
"In football terms the Alouettes are a 'bit of a fixer-upper'," stated CFL writer Dave Naylor, "but unless you have really rich parents who will help you out, this is the best way to get your foot into the league."
"The Alouettes are a great team and a fantastic investment," said head coach Khari Jones. "We feel really strong with the players and coaches that we have for the 2019 season, but fair warning about the furnishings – a lot of the chairs are old Ikea stuff we found on the side of the road, and the dining set was from Leons like 15 years ago."
At press time the CFL is threatening that, without a buyer in Montreal, the team will become the Quebec City Fleur-de-lis's.