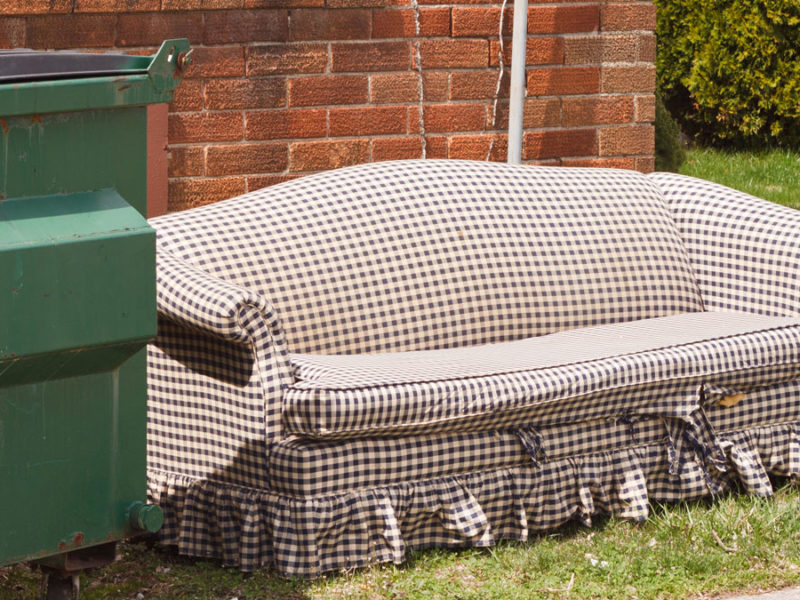 TIMMINS, ON – Local residents are at a loss for how to deal with their neighbours at 618 Brookridge Ave., whose front yard is somehow constantly occupied by a sofa they are throwing away.
Margaret Coutage, the neighbourhood's oldest resident, can't recall a time when there wasn't a derelict couch in front of 618. The earliest she can remember was an orange and brown four-seater with wood armrests and rough upholstery. "The kind that makes you itchy if you sit on it in shorts. I can see why they threw that one out," says Coutage.
"But then after that was a perfectly good leather loveseat. Then a gold and blue toile settee, which was torn, and a badly stained light grey Ektorp, then a broken pull-out." In total, Margaret can list at least 30 different couches she's seen curbed in front of 618. "And that's not even counting the futons. It really makes you wonder what's going on in that house," she says.
"The strange thing is I've never seen anything going into the house," says neighbour Wendy Moore, who lives directly across from 618. "No new occupants, no furniture delivery. Nothing goes in, just one busted sofa after another coming out, like some kind of sad fraternity house clown car."
Authorities agree the pattern is unusual. "We usually see homes processing furniture at something close to a one-in, one-out ratio," says domestic garbage expert Leon Sinnear, author of Debris To Be… You And Me. "So to see a home with such a high negative ratio, and such an intense sofa concentration, it really makes you wonder what's going on in that house."
Theories abound among neighbourhood residents. Some speculate the residents of 618 may be rerouting used furniture from a business to avoid haulage fees, others suggest they may be running an illegal couch fighting ring out of their basement. Margaret Coutage's explanation is simpler. "Drugs. I'll bet it's drugs," she says, while others think the owners of 618 might just be careless people with an unusually high furniture budget.
Though several neighbours have reported the persistent furniture, city workers are struggling to stay on top of the problem. "Last week they were throwing out this overstuffed beige thing," says sanitation worker Devin Cooper. "Me and my partner loaded it onto the truck, and as we drove away I looked back and it was sitting on the curb like we never touched it." Cooper has since requested a transfer to a different route and his partner has been placed on stress leave.
"It really makes you wonder what's going on in that house," he says.
Image via Deposit Photos