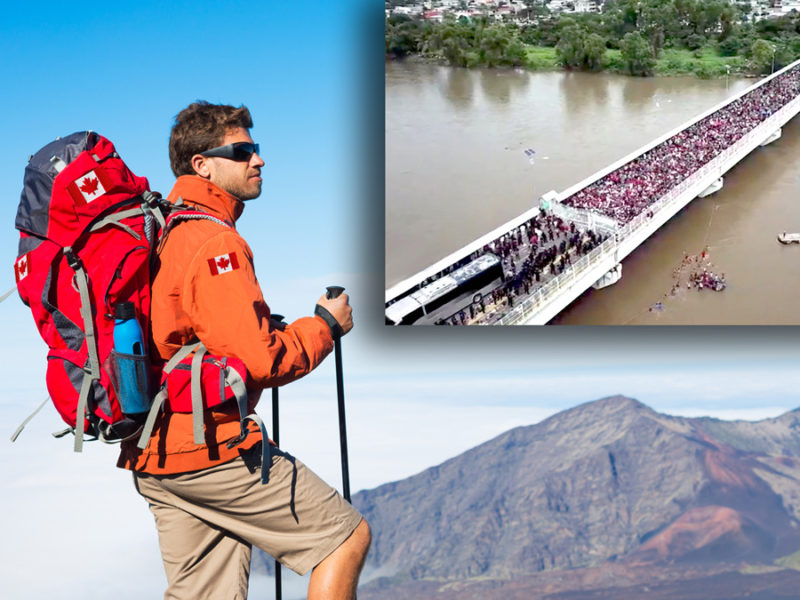 TIJUANA, MEXICO – Canadian Backpacker, Max Henderson, 22, previously reported missing during his backpacking trip through Central America, has been found traveling with a caravan of over 4000 migrants in search of asylum at the American border, because he wanted his trip to be "authentic."

Henderson says he began to grow tired of the "constant comfort and excitement of being a tourist" and decided to seek out "the real' Central American experiences. He joined the caravan on October 12th in San Pedro Sula, Honduras after returning from scuba diving on the islands, which he reports were, "way too developed."
"I wanted to really go native, like maybe trying to live off a dollar a day, or somehow get myself indebted to a gang," said Henderson. "Then I heard about this caravan, and it spoke to me, you know?"
Henderson calls the caravan a "real communal experience," adding that everyone supports one another by sharing the few things they've been able to carry. "For instance, two days in, I decided to throw away my Arcteryx raincoat, because of the capitalist burden it signified, and then someone offered me their only jacket after I asked them for it. Now that's generosity!" He hopes to return their kindness by providing his fellow travellers with reiki, and handmade bracelets.
He adds that the caravan has great features that will really get people back in touch with themselves, like a lack of wi-fi, security or shelter from the elements. When asked what the caravan is attempting to seek refuge from, Henderson confidently answered "our own limits."
"Really immersing myself in this rich migrant culture, sharing their traditions, their food, and their precious few resources. I'm telling you right now, you've really never tasted food unless a family has offered you the last of theirs."
Having reached the U.S. border, Henderson has joined the long wait list and hopes that he will be granted asylum in order to avoid going back to Toronto for the winter months.
Image via Deposit Photos / Flickr (cc 1.0)