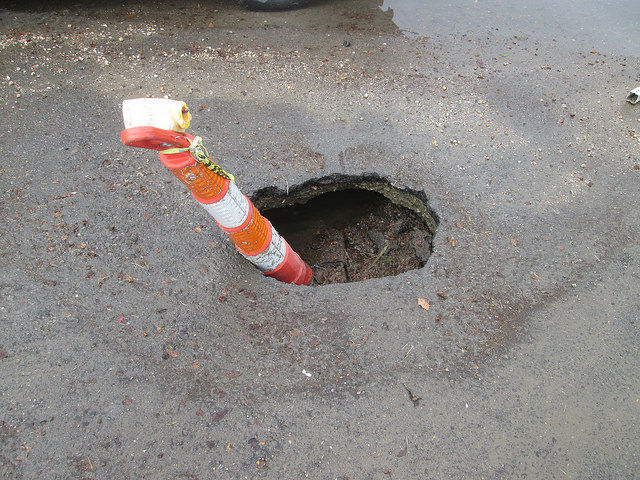 MONTREAL—City officials have announced that twelve historic Montreal sinkholes have been declared heritage sites to protect them from redevelopment.
"We have an obligation to preserve and celebrate Montreal's unique character as a global city, by which I mean it's enduring decrepitude," said Henri Gagnon, media spokesperson for Heritage Montreal. "These gaping chasms of history are a gift from our ancestors to us and our children; admittedly a cheaper gift than functional, well-maintained streets but hey, it's the thought that counts."
Heritage Montreal says each sinkhole chosen is notable for its longevity, distinctive aesthetics, and historical relevance. The Trou Jean-Louis Beaudry, the oldest continuous sinkhole in North America, was caused by mayor Beaudry's horse habitually relieving itself behind city hall. The Trou Rue Tourville sinkhole still contains "Rocket" Richard's 1966 Ford Galaxie and remains a popular selfie site for tourists.
"During Prohibition or something they hid whiskey down here before smuggling it into the US," said Sylvain Khoury, who runs a kombucha cafe in the bottom of the Trou Parc Herb-Trawick. "It's great the city is protecting its history, and the new walking tour will be good for business. But they should lift the smoking ban down here, too; it'd be more authentic."
Three sinkholes had already been filled in, but thanks to archive photos sinkhole conservators will be able to authentically restore their jagged edges, fetid puddles and accumulated debris. Mayor Valerie Plante says the city hopes the new historic sites will boost tourism, but warned removing trash from the sinkholes is punishable with heavy fines.
In a related story, New York mayor Bill de Blasio announced that C.H.U.D.s will be officially removed from the endangered species list, thanks to a successful captive breeding program.