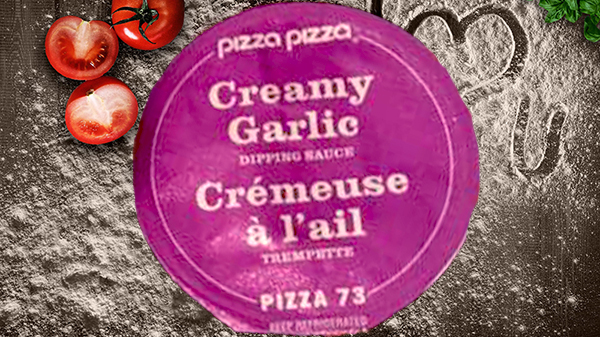 ETOBICOKE, ON- Finally acknowledging that customers merely endure their pizzas in order to get their hands on their dips, restaurant chain Pizza Pizza revealed on Thursday a new 16" creamy garlic dipping sauce.
"Due to their new size, families will no longer need to purchase an entrée for their dips to qualify for home delivery," spokesperson Candice Rose announced during the press conference, pulling an orange sheet away and unveiling the product to thunderous applause.
Each 16" dip, which holds twelve servings, includes a free Pizza Pizza Ladle Ladle™ for sauce distribution. Product testimonials released to the public indicate that while 25% of test consumers enjoyed folding their pizza in half and dunking it in the dip, 30% preferred submerging their pizza inside the container and letting it marinate. 45% ate the dip on its own directly from the container with one subject referring to it as 'viscous crack'.
Regardless of methodology, all customers agreed that their choice of pizza accompanying the dip would never be from Pizza Pizza.
"Admittedly, dip sales have kept Pizza Pizza afloat for years," Rose told reporters when asked about a testimonial that referred to the company's pizza as a 'thick crusted melted cheese stick and ketchup monstrosity.' "It's time we honour what has sustained us and give the customers what they want."
Rose indicated that Pizza Pizza will soon offer all sauces in 16" and may expand sizes to include a 6-foot-long party sauce and a 4 gallon banquet trough pending demand.
Many companies have begun to follow suit, with Swiss Chalet presenting prototypes for a Rotisserie Chicken sized Chalet Sauce.