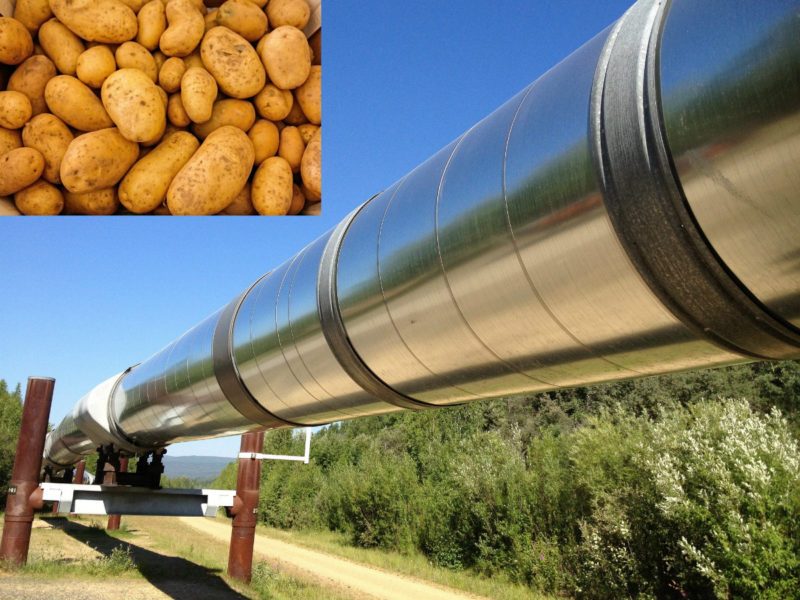 CHARLOTTETOWN – Provincial tensions are high after PEI Premier Wade MacLauchlan said he intends on reducing potato shipments to the province of New Brunswick unless Premier Brian Gallant approves the construction of a new potato pipeline.
This move could send the price of PEI potatoes skyrocketing in New Brunswick from $3.99 a bag to $4.99. MacLauchlan says that transporting the island's strategic supply of russets, reds, whites, and yellows to the mainland are in the national interest.
"This pipeline has received federal approval and is clearly within their jurisdiction," reasoned MacLauchlan about the proposed 226 km pneumatic tube that would cross the ocean. "While we don't want to limit our shipments of fine PEI potatoes to our neighbours, the Canadian economy is losing $13 for every day this project is delayed."
Last week, New Brunswick Premier Brian Gallant said that he will not approve the pipeline over concerns about a possible potato spill, the environmental impact of unprocessed PEI red potatoes, and how his province already grows potatoes.
"The interests of Charlottetown boardrooms are not the interests of New Brunswickers," explained Gallant. "We are not in the pockets of the PEI spud lobby."
Meanwhile, Peter Pence, a Pokeshaw potato pipeline protester is pretty pumped to pester provincial plans unless police pepperspray prevents perfectly peaceful protests.