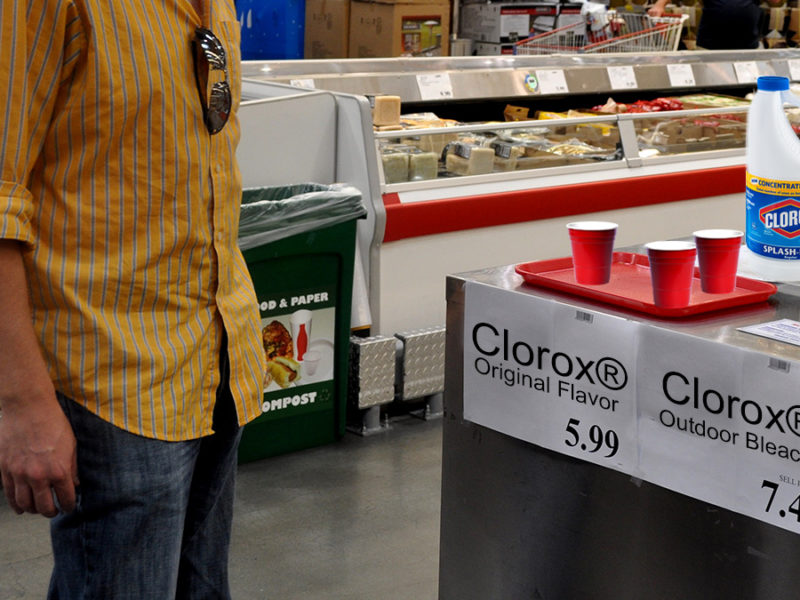 ISSAQUAH, WA – Interested in expanding the selection of products customers may taste before purchasing in bulk, Costco kiosks across North America have begun to offer delicious free samples of bleach.
"In providing shoppers browsing the cleaning aisle with a chance to try a sip of a new bleach we're offering, free of charge, they'll be able to ensure quality in every drop of the jug," said spokesperson Amar Singh, adding that the kiosks, which rotate their offerings with Clorox Regular-Bleach, Clorox Scented Bleach, and Clorox Outdoor Bleach, were ideal for a patron who's grown tired of the bleach they've been drinking for years.
"Some folks sample the variety of bleaches we're offering in an attempt to become a more conscious buyer, whereas others grab a cup because they're feeling thirsty as they shop," remarked Jason Celin who has tended a bleach kiosk for two years. "Now and then I let young ones have two, as long as their parents say it's okay."
"We were a Javex household growing up, so naturally that's what I served my kids," longtime Costco customer Gabriel Omassi told the press. "But after trying a tasty ice cold mouthful Clorox Outdoor Bleach, it's safe to say my family is converting!"
At press time, Costo announced that due to positive customer feedback, they will be broadening their sample selection to include snack size assorted screw and nail mix, warmed incandescent light bulbs, and wood chips with varnishing dip.