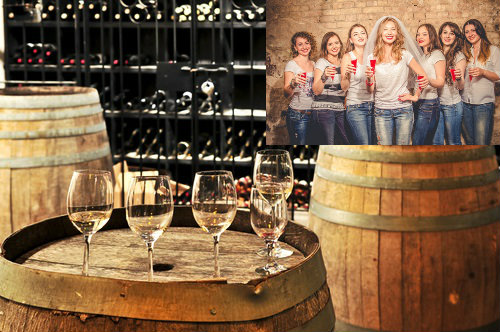 PICTON, ON – An inebriated stand-off lasted for almost an hour between eight heavily heeled women, and about 20 innocent patrons and staff at Red Sail Winery.
"Pass the bubbly, bitches!" yelled one of the gang members to a terrified bartender who wanted the experience to be over as soon as possible.
One unfortunate intern of the winery was forced into the cellar to explain the wine making process and asked if he was single or not.
"I was just praying that they would leave as soon as it got boring," said intern Joshua Hammel. "They just kept saying 'Wooooo!' to everything I said."
While some of the details are still emerging, survivors of the event said that the group broke two glasses, vomited on the front lawn, and showed a complete lack of appreciation for the winemaker's award-winning unoaked chardonnay.
"They just guzzled down the Baco Noir giving no consideration to subtle notes of blackberries and dark chocolate," said one witness on the verge of tears. "I'm beginning to think that they were just there to get drunk. They were savages."
While one woman was wearing a tiara and pink boa, she did not appear to be the leader of the gang that was barely paying attention to how a wine is certified as organic.
According to sources, the marauding bachelorette party departed to hit up their next set of victims without even buying anything.