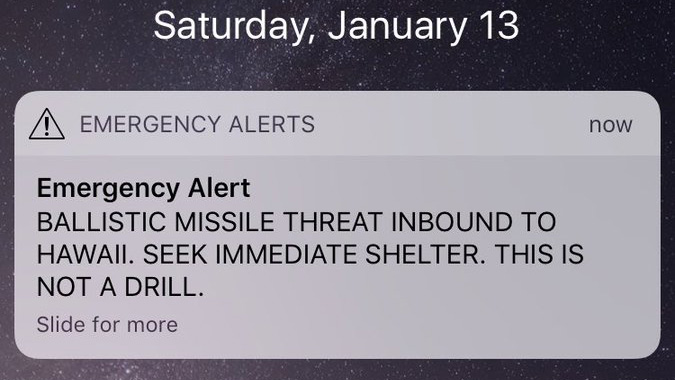 HONOLULU — Following an erroneous mobile phone alert telling Hawaiians a ballistic attack was imminent, thousands of island residents are reporting that engaging in panicked, fearful doomsday sex is not actually the beautiful experience you might expect it to be.
"I mean, we're in paradise, I figured something like this could be a bittersweet goodbye," said local Marcus Powell. "But man, I wasn't sure how fast I'd need to finish and, really, my head just wasn't in the game."
While there have been many reports of people declaring a long held secret love for somebody close to them, this attraction was rarely mutual. In the few instances where the object of desire opted to "give it a go anyway, because what have we got to lose?" the result was invariably "awkward," according to Cynthia Finch.
"I mean, it's not like we were on the beach or anything when the alert came. Carl and I both work at KFC and so when he told me how he felt, I figured 'sure'" Finch said. "We headed to the bathroom since that was probably the closest thing to a shelter anyway, but man, it was not clean in there."
"I got the vibe that Cynthia wasn't feeling it pretty quickly," stated KFC employee Carl Maguire. "Halfway through I just gave up because I figured if it's the end of the world, maybe I should just call my mom."
At press time, sources say the only Hawaiians who report having an enjoyable sexual experience during the roughly half-hour where the population thought they were going to be annihilated are all now – finally – out of the closet.