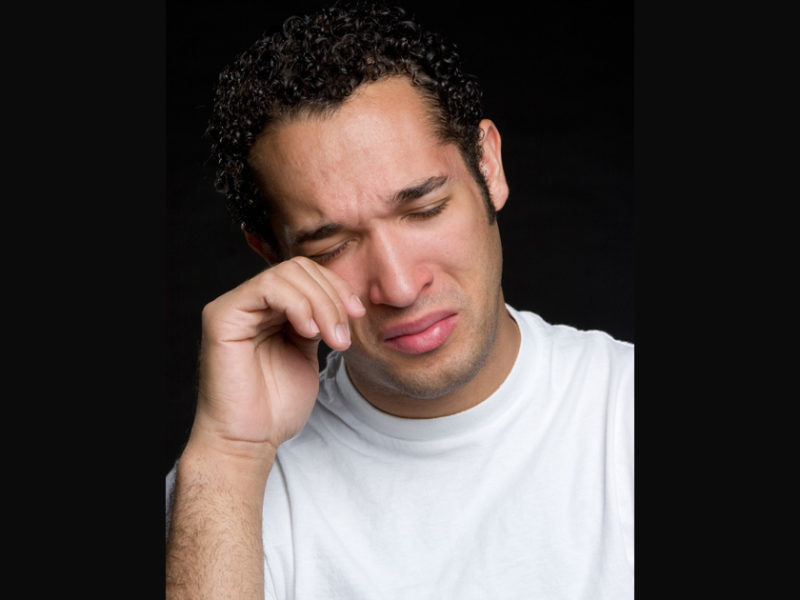 BROCKVILLE, ON – Reports this evening indicate that 27-year-old Dillon Carsaw, who up until now has shown little to no sign of emotional affection towards others, has spent the past two hours sobbing while watching a beloved sports legend announce his retirement.
"We were dating for over a year before he told me he loved me and even then it only happened when he was drunk," claims Carsaw's girlfriend, 25, Kayla Siten. "But he's been sobbing into a jersey professing his love to that player for over an hour now. Honestly, I'm just happy to know he CAN cry."
As the retirement ceremony continued on, Carsaw continued to weep throughout while those close to him were reminded of all the great times he missed out on while disconnecting from others by watching sports, countless dates, parties, and social events abandoned in favor of loyalty to a billion dollar sports franchise. This is of course a man who was stone faced at his grandfather's funeral, but became a puddle of tears the moment the team president announced the retirement of his hero's number.
"Moments like this make me realise how beautiful the world can be," stated a starry-eyed Carsaw, as the retirement ceremony came to an end. "Am I heart broken in this moment? Sure. But this sorrow only exists because of the beautiful joy I was brought into earlier… and for that I'm forever thankful. It's a lesson to appreciate life's wonderful moments before their gone, because saying goodbye to love is the ultimate tragedy." Following this poetic statement, Carsaw's girlfriend asked whether he'd miss her while she took a trip to Spain and responded with "Why would I miss you? You're only gone for a week."
While those around him are currently hoping this could be a turning point in emotional availability for the 27 year old, many are expecting Dillon Carsaw to go back to his ways of one word texts and a hatred for public displays of affection immediately following the ceremony.