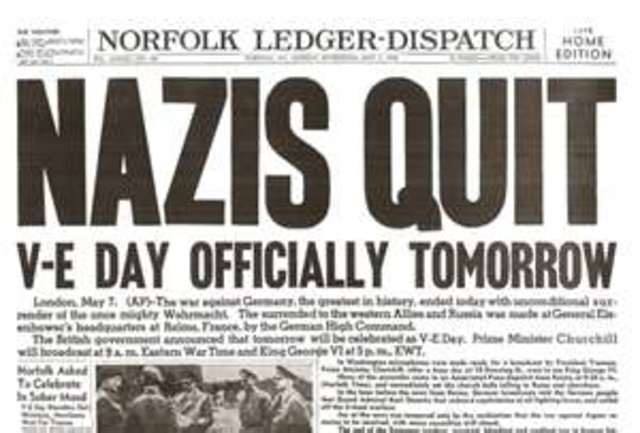 NORFOLK, VA – The Norfolk Ledger-Dispatch, the paper of record for Norfolk, Virginia, has issued a correction to a 1945 story that indicated that Nazi organizations were no longer functioning.
"An article in our May 7, 1945 edition incorrectly identified National Socialism as a retired ideology," read the retraction. "While this may have been true for certain individual Nazis, our reporters seem to have underestimated the cultural stamina of xenophobia and short haircuts. We regret the error."
While the original headline referred specifically to the conclusion of hostilities in Europe, The Ledger-Dispatch admits they went too far in assuming that all Nazis had quit, an assumption that has been disproven by a large crowd of violent Nazis marching this weekend in nearby Charlottesville, Virginia.
"I was really surprised we could get something so wrong," tweeted former paperboy Ed Deaker, 89, the only surviving member of the publication, which folded in 1955. "But the moment Nazis re-emerged only 250 kilometers away from Norfolk, I thought it was important to print a correction immediately to set the record straight. Like all American media organizations, we always try to make sure we have our facts straight."
The Nazis, sporting collared golf shirts, matching torches, and slacks ranging across the full spectrum of tan, assembled near the University of Virginia campus to protest the pending removal of a statue of General Robert E. Lee.
In response to the rally, US President Donald Trump took time to condemn the perpetrators and victims of Nazi violence.