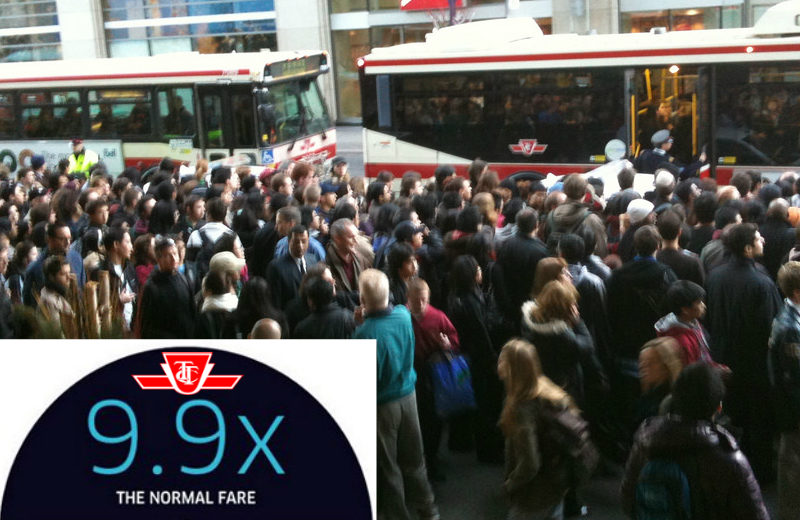 TORONTO – Faced with a multi-million dollar budget shortfall and decreasing ridership, the Toronto Transit Commission is looking to raise funds and control congestion by instituting "surge pricing," where fares rise with high demand.
"We have a responsibility to make sure our system runs as efficiently as possible," said Andy Byford, TTC CEO.
"Price increases during peak times will not only alleviate crowding, but also incentivize subway, streetcar and bus drivers, whom you see – practically all the time – just sitting around reading the newspaper or chatting while having a coffee, to finally get into a mass transportation vehicle and move people like they're supposed to."
Riders can expect the price to increase to 1.25x to 6.0x or more of the base $3.25 cash fare.
"It was easy to pay the surge price with my Presto card," said Patricia Burns, who regularly commutes from Coxwell station.
"I just wish the machine didn't tell me how much it was after, I tapped it."
"I usually pay with tokens," said Greg Calandria, who works downtown.
"So I'm glad the TTC made it easy to pay today's 1.5x surge price with their newly installed token cutting presses at the fare booth."
Surge pricing is only expected to be in effect during periods where the system takes on more riders than it was originally designed to, for example, during the morning and evening rush hours, during the afternoon rush hours, before and after Leafs games, during weekends, just after last call, and of course, when you really, absolutely need to be somewhere important.
With a portion of the surge fare going directly into the vehicle operator's pockets, experts say the scheme is expected to cut down on instances of "ghosting" (where streetcar drivers make clear and distinct eye-contact with a rider trying to get on, but ignore them and hit the accelerator as soon as the light turns green) as well as the phenomenon known as "cluster-bussing" (where three empty busses zoom by one stop within thirty seconds of each other and riders are left waiting for an overcrowded bus to arrive 45 minutes later.)
Taking another play out of Uber's handbook, the transit authority has also announced a new service called TTCBlack. For instance, with the service, riders looking to impress a date can now pay for the luxury experience of having the Dufferin bus all to themselves.