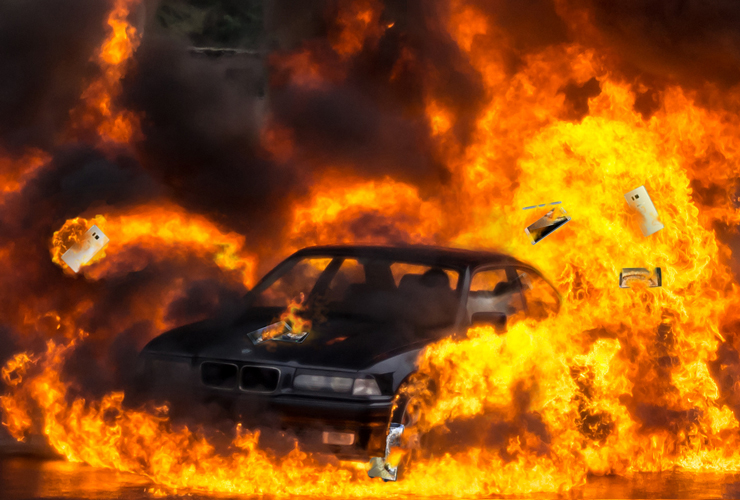 Black Rock Desert, NV — Two global brands facing separate multi-billion dollar faulty product crises are teaming up to address their problems with a unique sponsorship plan.  Under the agreement, Samsung and Volkswagen will be platinum co-sponsors of the 2017 Burning Man festival, where each recalled Volkswagen car will be equipped with a Samsung Galaxy Note 7 phone and added to a giant pyre near the festival gates.   
The resulting megafire will help each company dispose of their millions of recalled products and is expected to consume more than 1.5 million hectares, surpassing the Great Fire of 1910 as the largest in U.S. history.
"We have a need to repurpose several million unsellable cars" said Volkswagen AG Chairman Hans Müller.  "Our Korean counterparts also have considerable surplus product at this time.  By combining forces we will use our business synergies and ingenuity to give back to the community and make amends for the past. It was wrong to cheat the emissions control tests for our cars. By taking these actions, we show that we have learned from our mistakes."
Samsung North America spokeswoman Hyun Jeong Kim added "With the Galaxy Note 7 recently being banned from commercial aircraft, it was important for us to find a local disposal solution for the North American market, and a final resting place for these wonderful devices. While it is unfortunate they proved unsuitable for their original purpose, we are very pleased that our phones will be put to good use at Burning Man."  This year's festival will be held in Black Rock, Nevada and the "performance sculpture" contributed by the two companies is expected to reach 42,000 degrees fahrenheit and be visible from space.  
The response of environmental groups to the proposed plan was a mix of horror and disbelief.   Sierra Club spokesperson Dr. Lucy Davidoff began her press conference by stammering "I can't even" before choking up and being helped off the stage.  
Tickets for the 2017 Burning Man Festival go on sale next Thursday.