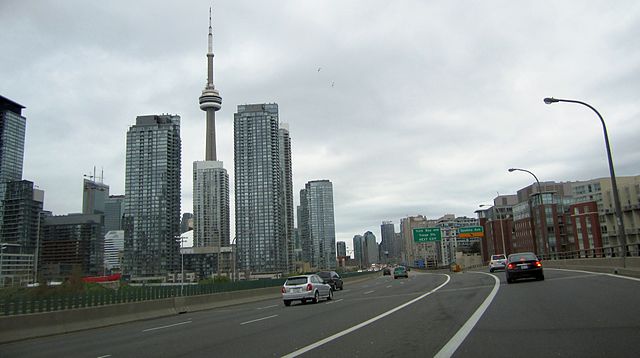 TORONTO – Self-proclaimed "Gardiner nut" Candace Matthews was thrilled when Toronto mayor John Tory proposed road tolls for her favourite highway earlier this week.
"I always felt bad using this sweet stretch of road for free every day," Matthews stated, as she proudly showed off a framed chunk of asphalt that fell off the Gardiner earlier this year. "Now it's like I get to say a heartfelt thank-you every time I pay my $2.00!"
Matthews then leapt up and whooped: "Gardiner ruuuuuuules!"
She could barely contain herself when asked what it was she loved so much about the downtown expressway: "Buddy, come on! That list is longer than the on-ramp lineup. Okay, it's elevated for part of it. Views of the lake. You get to see the expansion of architecture. And you're driving slow enough that you can admire it all!"
Matthews added, in between offers for celebratory high fives, that she's been able to make great use of the time she spends stopped altogether on the Gardiner. For instance, she is confident she would know how to change a billboard just from watching it happen so often in its entirety. She also met her husband while at a standstill in traffic – they both rolled down their windows to remark "Great highway, huh?" to each other.
"And I'm not just one of those commuter posers," she continued, explaining how she and her friends often pile into the car on a weekend, simply to drive the Gardiner back and forth across the city. 
In addressing critics of the tolls, Matthews had one simple analogy: "You wouldn't try to sneak into an art gallery for free, would you?"
She laughed at the idea that the tolls would make her take her beloved highway less often. "If anything, I'm going to have to take it more often just so I can try to give back for all the years of free thrills I've had."
When asked how she felt about the Don Valley Parkway tolls, Matthews scoffed. "It's fucking bullshit, I already pay my taxes! Why should I have to pay extra to ride that trash pile?"