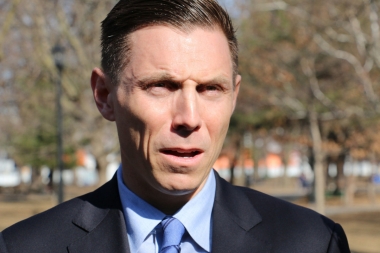 MCMASTER UNIVERSITY — The Ontario Progressive Conservatives have released an apology to young party activists Tuesday, after organizers of a youth rally used violence, intimidation and the presence of party leader Patrick Brown to haze young PC members.
"I was really afraid." said Daniel Singh, a 19-year-old PC recruit. "This was supposed to be a meet and greet but organizers were hanging volunteers upside down by their feet. They starved us and called us dogs and, worst of all, Patrick Brown was there."
"He didn't do anything. He was just there. Leering."
Monday's seminar was meant to be a casual get together for young conservatives to find future volunteers for the Ontario PC party. According to an organizer of the event, who asked to remain anonymous, the event schedule had only included a brief speech on fiscal conservatism, a photo-op and a pizza networking session. The physical torture, verbal demoralisation and disturbing presence of Patrick Brown were reportedly improvised.
"You can't totally blame us for what happened," said the anonymous source. "We haven't held any power since 2003, who knew how we were going to react."
This event marked the first use of Patrick Brown on Canadian soil since the leader of the Ontario PC Party was added to the United Nation's list of cruel and unusual punishments.
Following the incident, McMaster University has reportedly considered banning future PC events held on campus. University officials decided against the ban, though, fearing that being a young conservative was socially awkward enough.