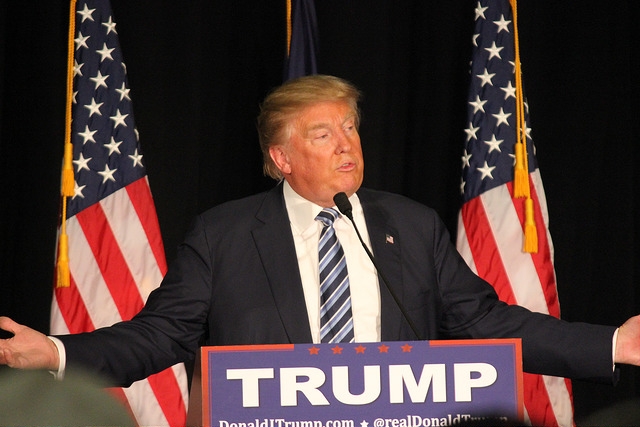 LONDON – Renowned graffiti artist Banksy stunned the world this week when it was revealed that Donald Trump has been an elaborate, multi-media, site specific performance installation by the elusive artist this whole time.
In the piece, Banksy — whose identity has never been revealed — used his classic style of creating life-sized two dimensional characters, foregoing his usual black and whites for a palette dominated by orange and diverse materials, which included real human and rat hair. Script for the installation's audio came from several sources, including most notably the comment sections of online news articles and YouTube videos. The comments were then run through a computer program designed to limit the syllables per word.
Insiders of the art world have deemed the piece, "a hauntingly beautiful exploration of anti-war, anti-consumerism, and anti-fascism themes previously explored in Banksy's work."
Unique to the piece is its inclusion of social media. Some of the most poignant moments from the installation could only be viewed on Twitter. Banksy's typical nihilistic humour rang through this past September when his installation tweeted, "I would like to extend my best wishes to all, even the haters and losers, on this special date, September 11th." The tweets, taken in earnest by the public, in turn created waves of praise and criticism in nearly equal measure. The clash on these two opinions was intentional; a further level to the piece as a whole.
"It's smart, really," said Kayla Jenkins, a Trump supporter from Kansas City.
"This installation required audience participation via photos and social interactions, and it's neat that I was a part of it.  I was the art! I really got behind Trump's message. Boy! Egg on my face! I guess I have a few [Latino and Muslim-American] co-workers to apologize to now."
"Normally I hate art," said Art Taylor of Sioux City.
"I think it's left-wing propaganda like the news or windmills. But I really liked this.  It highlighted how I pacify my own fears and insecurities by getting behind hateful rhetoric that scapegoats others around me. Plus in this art, there was no gay shit."
Sources say the installation has now been removed by venue owners, and is currently being prepped for auction at a gallery in Southampton, New York.  A press release from the gallery praised the "…extraordinary commentary on how vanity, celebrity, and wealth outrank morality in America today'. Pending authentication, it is expected to sell for north of one million dollars.