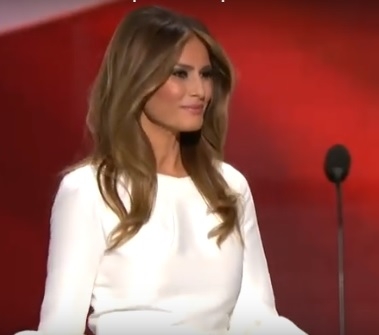 CLEVELAND – Following her stirring keynote address at the Republican National Convention, senior ranking GOP officials are now hailing Melania Trump as a role model for America's strong black women.
"She's remarkable," gushed RNC chairman Reince Priebus. "Between her law degree from Harvard, her tireless efforts as assistant commissioner of planning and development at Chicago City Hall, and raising her daughters Sasha and Malia, I genuinely don't know where she finds the time.  Plus, those arms!"
Senate Majority Leader Mitch McConnell (R-KY) echoed Priebus' sentiments, citing Melania's "Let's Move" initiative, which aims to eliminate the epidemic of childhood obesity through healthy lifestyle choices; her "Let Girls Learn" program, that provides access to education for girls around the world; as well as her thriving, 24-year marriage to President Barack Obama.
"You just don't see women like that in the Republican Party these days.  Most of the ladies married to our members are just vacuous trophy wives who met these bloated, white bags of human garbage as mistresses, and eventually got promoted.  So to come across an actual human being of substance is, well, refreshing."