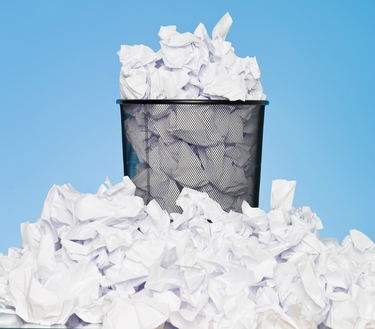 WHITEHORSE – After failing to pass a motion that would have started a curbside recycling program, the City of Whitehorse promptly disposed 5,000 pages worth of research, analysis, and recommendations about the recycling plan into a large waste-bin.
"Well, I think that's all of it," said an anonymous city official throwing the last mound of a feasibility report that took months to produce into the city's dumpster. "I think we're going to need another bin."
Officials at The Wilderness City were also forced to dispose 10,000 plastic recycling bins, promotional styrofoam cups, and 2,000 life-sized cardboard cut-outs of Whitehorse Mayor Dan Curtis encouraging citizens to participate in a municipal curbside pickup program.
"Looks likes these wine glasses that says 'Whitehorse: We Recycle' will also have to go," added the employee before tossing them into the garbage disposal unit with a crash.
At press time, municipal council was considering opening a new landfill site in the event that they consider another curbside recycling program.
With files from Alfie Green