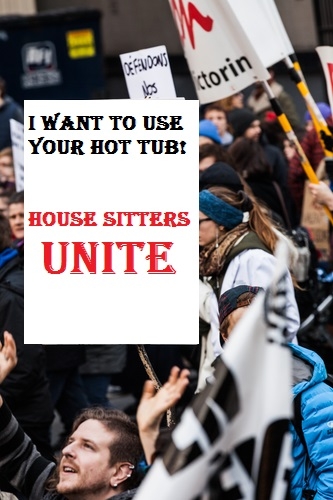 WHITEHORSE – The House Sitters Association of Yukon (HAY) Local 304 ratified its collective agreement over the weekend, a move welcomed by HAY President Pascale Morin and its more than four thousand members.
"This ratification gives Yukon house sitters  more security and the benefits they rightly deserve," said Morin, who prior to being a year round house sitter, was a self described hippie that lived in a 1978 Westfalia van and was forced to shower at the Takhini Hot Springs. " While we live in these homes for free the stress of watering plants and caring for animals that aren't our own can take its toll."
The new ratification agreement means house sitters will now be guaranteed full use of all vehicles, including RVs, motorcycles and boats. Fuel will also be provided to ease financial worry. House sitters will also be provided with professional house sit training in the form of kitty litter removal and bike rack use.
In addition to motorized vehicles house sitters will also be permitted to use fat bikes, kayaks and stand up paddle boarding.
The new agreement also includes a monthly per diem of $1200.
"House sitting is harder than it looks," explained Morin. "Sometimes you miss ultimate games and bongo drum jam sessions."
The new agreement also means house sitters will no longer have to care for pets or water plants. Instead, owners will now have to arrange care for their pets and remove all plants prior to the house sitters moving in.
"It makes sense," said Morin. "These animals are not ours, these plants are not ours, why should we be expected to care for them."
Other changes include a guaranteed stocked fridge, promise of a gift or gifts when homeowners return and first dibs on follow up house sit opportunities.
Prior to the ratification, Local 304 members had a sit in planned at the Canada Games Centre hot tub in protest of their outstanding concerns and demands.