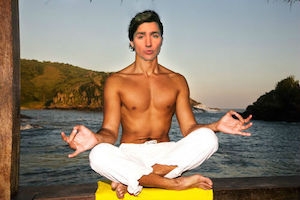 OTTAWA — Reports have come in that after toweling off his rippling yoga abs, Justin Trudeau gracefully picked up his eco-friendly mat and set your body ablaze by whispering "Namaste" sensually in your ear.
Sources say that his wet mop of gorgeous hair was dripping with sweat as your eyes locked for what seemed like an eternity. Losing control of your body in a state of complete erotic rapture, eyewitness reports say you stumbled over some yoga blocks and landed in the PM's muscular arms. One minute you were thinking about going home to microwave a frozen pasta thing, and the next you were blinded by a burning desire to ravish Justin Trudeau on the leather loveseat you and your fiancée are financing from The Brick.
As you regained your balance, Trudeau smiled politely, detonating a veritable explosion of sexual longing in you that sent shockwaves through the modest yoga studio, propelling others in attendance into a trance-like state of carnal ecstasy.
As the shame set in, you were still picturing Trudeau's magnificent peacock pose and it felt like your jeggings were engulfed in flames. When reached for comment, your fiancée—also in attendance that night—was too distracted by the elegant musculature of the PM's yoga thighs to respond, and remained in a state of ravenous arousal for several hours thereafter. Later that evening, you both silently agreed to make out feverishly to a YouTube clip of Trudeau saying "Because it's 2015" playing on a loop.
While the incident at the yoga studio was not recorded on film, bystanders reported feeling a majestic breeze and "just a whole lot of feelings" as the PM exited the area.