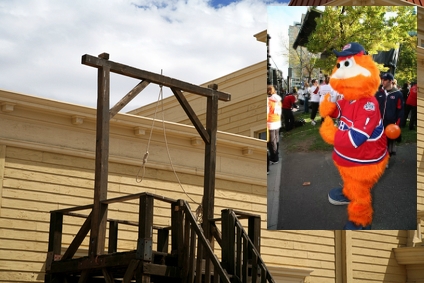 MONTREAL – An angry mob of Montreal Canadiens fans have carried out its 10th extrajudicial hanging, burning and quartering of its fuzzy orange mascot, Youppi!
Condemned as a bad-luck charm since arriving from his former job at the Montreal Expos in 2005, the walking amulet was cornered by fans wielding pitchforks and giant foam fingers after the Habs were eliminated by the Tampa Bay Lightning from playoff contention last night.
Thousands gathered at the Bell Centre as a makeshift gallows was constructed with hockey sticks and tape in what is becoming a strong tradition in Montreal.
Youppi didn't blink as he walked up to the gallows, but not before he energetically waved to some children and gave a big thumbs up.
At press time, Habs coach Michel Therrien announced that Carey Price will play every position since he was playing every-goddamned position last night anyway.