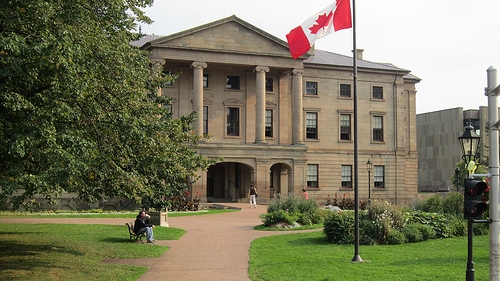 CHARLOTTETOWN, PEI – After a gruelling campaign that led candidates from the dock all the way to the old barn, Bill, Roy, and Chad have called it quits, and Dale has been elected Premier of Prince Edward Island.
"This is a great honour," said Dale, to a thronging crowd of Mavis, Emma, and Potato Jim. "It's been too long since a member of the Dale community has been in a position to make changes in our province."
Sources close to Dale say he nearly didn't run for office, as dirt season was coming up, and he was worried about getting the dirt crop in on time.
"But then Margie said, 'Dale, you should run, boyo,'" said Sally. "And Dale, he said, 'Aright.'"
Although it was a close race, with all four candidates getting at least three chits in their vote jar, Dale pulled ahead to win a majority, after gaining the endorsement of Shirtsleeves Larry.
"A Dirt Farmer winning the endorsement of a Dirt Mover, never thought I'd see the day," said Roy. "That's when I knew I was running against history."
This is the first time a Dale has been Premier since it was Dale's dad, Old Dale's, turn to be premier in 1978.