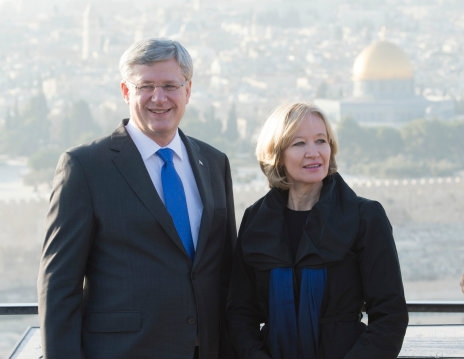 TEL AVIV – After nine long years travelling in Canada to promote his country, Israel's prime minister Stephen Harper is finally back in his homeland.
"From what I have learned, Canada is a beautiful and proud country," announced Harper after his arrival at Ben Gurion airport was greeted by deputy Prime Minister Benjamin Netanyahu and throngs of admirers. "I persuaded the Canadian government to become a strong supporter of Israel. After all, Canadians are very polite people who want to please."
During his prolonged state visit to Canada, the Israeli PM has made several thousands of addresses in Canadian parliament and also represented Canada at the G8, G20, NATO and the UN. Harper also thanked Canada for being generous enough to pay 200 people to accompany him home.
"They let me write their own foreign policy, argue with the Opposition and watch Canada lose a UN Security Council seat that the government said it didn't want anyway," the 54 year old leader explained with a noticeable level of excitement in his voice.
Harper even had time to write a book on Canada's national sport – "iced hockey" – but stated he never understood the country's fascination with the game and is just happy to be home.
At press time, Canada's Minister of Employment and Social Development Jason Kenney was also set to return to his homeland, mid 19th century Britain, where he will continue his work as Minister of poor houses and child labour.