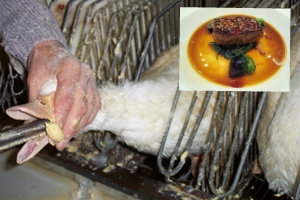 BRUSSELS – Members of the European Trade Commission gorged on fattened duck liver to to celebrate the WTO's decision to uphold the ban on Canadian seal products.
"We're pleased to hear that the WTO will not endorse this slaughter" said European Trade Commissioner Karel De Gucht while scarfing down the organs of a goose who spent most of its existence inside a cage being force-fed. "Europe will continue to be the moral beacon for animals rights everywhere. I'm surprised that Canada would continue such backwards, inhumane practices."
The WTO trade panel considering the ban was persuaded to keep it in place after EU representatives showed a series of pictures showing big eyed seal pups wearing adorable hats.
"The protection of cute animals is a trade priority" announced France's Foreign Minister Laurent Fabius while donning a chic leather jacket and stylish sheepskin gloves. "Besides, no other article of clothing matches with seal skin and it's a faux pas to wear it in Paris."
Other EU members have promised further trade and diplomatic consequences such as restricting trade access to Portugal's veal industry if the country does not stop the seal hunt.
"Canada will not be invited back to the bullfighting in Cordoba" grumbled Spanish Minister of Trade José Manuel Soria referring to his country's blood-sport of slowly killing a bull for fun. "They hunt these harp seals like they're animals!"