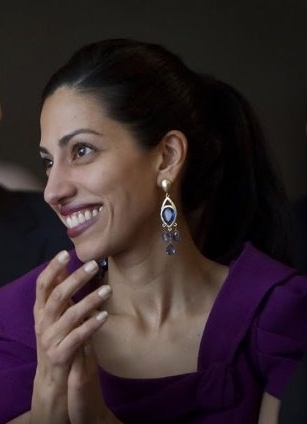 The long-time Hillary Clinton aide and wife of disgraced congressman and New York mayoral candidate Anthony Weiner, Huma Abedin, has been tapped to join the cast of Bravo's Real Housewives of New York.
"Huma is exactly what we want for our show," said executive producer Arnold Kaufman. "She is smart, beautiful, successful, and has a very…uh…interesting homelife."
"She's like if Alicia Florrick from The Good Wife was contractually obligated to get into screaming matches with people named 'Slade'." Kaufman added.
Abedin's new job will consist of attending parties where she and other cast members throw chardonnay at each other and call one another "so fake". In preparation for her new role, Abedin was seen shopping for low-cut Herve Leger bandage dresses and leasing a $300,000 sports car that series writers will force her to crash midway through next season.
"The public is treating my life like a soap opera already, so I really might as well get paid for it." Said Abedin.
According to the Bravo Network, Abedin's first episode on Housewives will feature her having tea with Angela Merkel, confronting angry commenters on Jezebel using the alias 'Mrs. Carlos Danger', and ripping out the weave of 'that skank', former secretary of State Madeleine Albright.
"We're all very happy for Ms. Abedin and her decision to join our reality TV family," said Kaufman, "and don't forget to catch Anthony Weiner on next week's episode of Wipeout!"