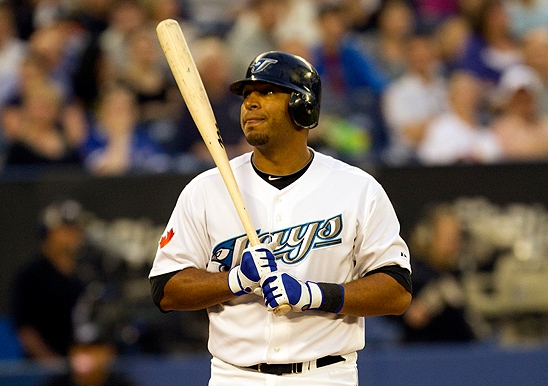 TORONTO – Toronto Blue Jays center fielder Vernon Wells is in a slump, but it has nothing to do with his bat or his glove.
The 31-year-old told reporters that he is profoundly troubled by the fact that his coming-to-the-plate music is in no way representative of his true tastes.
"I die a little inside each time I leave the on-deck circle," Wells told wistfully.
Wells said he would be content to step to the plate with a classic from the likes of John Denver or Simon and Garfunkel, but fears teasing from his teammates.
Jays clubhouse attendant Darin Krantzer confirmed that Wells has been the victim of several locker room pranks, including having his iPod
On-The-Go playlist posted up on the wall.
"It's a real shame," Krantzer said. "Let the man enjoy his Gordon Lightfoot."
The 31-year-old Wells is unable to reconcile his peculiar music tastes along cultural lines, which many of the other Jays appear to have no difficulties doing.
"The Latin guys have their soca music, the white guys their generic rock, but me, I'm really into 1960s singer-songwriter stuff. That's my joint."
Currently Wells comes out to "Over", a hit single from Toronto-native rapper Drake, a song Wells reluctantly admitted he doesn't care for.
"I actually try to tune out my entrance music every at-bat, but if I can't, I get distracted, and pop up the first pitch," Wells said. "And I'm sure you've noticed that I pop up a lot."
"I would say I'm in a funk, but that wouldn't be accurate; I'm not into funk music at all."