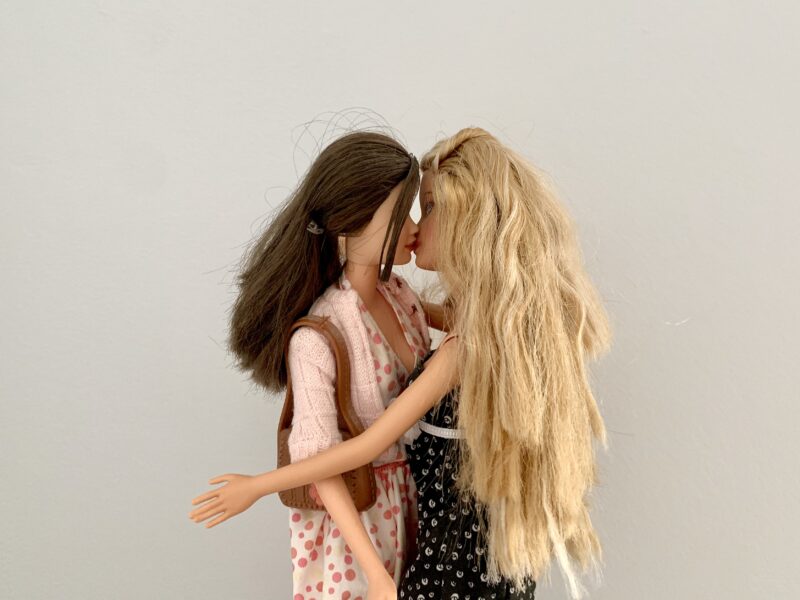 MONTREAL – This week, Lauren Katsufrakis' friends and family were growing increasingly concerned as she had been repeatedly making her old dolls make out in order to feel anything aside from the nothingness she has been feeling recently.
"Everything is a meaningless abyss, but pretending my Barbies are sharing passionate, forbidden kisses helps dull the dread I feel every waking moment of this awful existence!" said Katsufrakis while excitedly grasping Island Fun Skipper and Ryan in a tight embrace. 
Katsufrakis had expressed to those close to her that she had felt numb to her own perception of reality due to the general state of the world. In an effort to feel something more than the emptiness of being alive, Katsufrakis began roleplaying with some old Barbies she found in a box that she was supposed to throw away years ago. 
From there the roleplaying grew increasingly elaborate as she collected more childhood toys until she created a sex-positive Barbie town with vivid story lines for every character. 
"It's like Welcome to Marwen… except horny." Kastufrakis explained,  "It just sucks that they don't have moveable tongues. They don't French like I want them to."
Friends have encouraged her to go on walks, take cold showers, or try lightly slapping herself on the face in order to curb her appetite for plastic-on-plastic action to no avail. 
"I keep walking in on her whispering things to them like 'Why Ken, you've been a naughty naughty eunuch' and 'C'mon Barbie, let's go party,'" said close friend Randy Smith. "And I once saw her sneak a kiss with the Barbie styling head, dead-eyed and smiling… I'll carry that with me the rest of my life." 
At press time, Katsufrakis has expanded her Barbie sex-town to all corners of her one bedroom apartment. Her live-in boyfriend of 7 years has yet to notice.