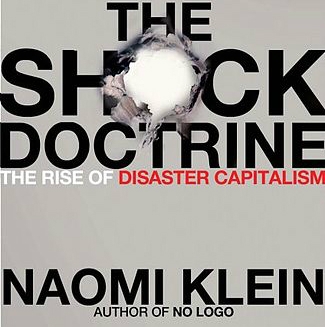 OTTAWA — A poll released today on the NDP leadership race shows that a hardcover copy of Naomi Klein's bestselling books in hardcover, 'The Shock Doctrine: The Rise of Disaster Capitalism',  is currently ahead in the race to replace Thomas Mulcair.
The 672 page essay, which outlines the effects of how neoliberal economic institutions and big business exploit crises for their own ends, has 28% in NDP support.
"This inanimate object is popular with many third year university political science and sociology seminar students," explained Eric Grenier of ThreeHundredEight.com.  "It's been making its rounds among the NDP faithful since 2007 and has convinced many that it is ready to take the party in a new direction."
While 'The Shock Doctrine' is polling strongly, Grenier notes that other potential and declared candidates aren't far behind.
"The softcover edition of Klein's 'This Changes Everything' is turning a lot of heads. It's a New York Times Bestseller, very pro-Leap Manifesto, and has already been cited in several first year university environmental studies essays. The latest poll has it sitting 20%."
Behind these two candidates are Jack Layton's Orange tie, worn during the 2011 Federal Election Campaign, at 14%; an activist's cardboard sign from the G20 protests in Toronto, at 10%;  and Robert Chisholm, at 8%.