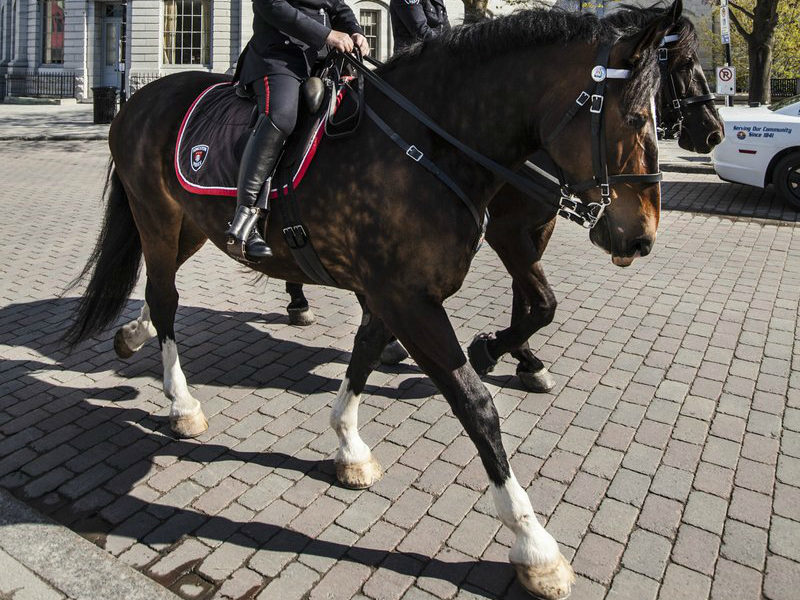 KINGSTON – The Kingston Police horse known for bending rules and not taking any shit has been transferred to administrative duties while the Department's Internal Affairs investigates her conduct. This comes after a video was released showing the mare kicking a Queen's student after she was slapped from the behind during Queen's Homecoming last weekend.
'Murney', a seven-year veteran who started in narcotics before switching to crowd control, had a strong reputation for her rough-and-tumble approach to dealing with suspects. She was known for being disobedient to superiors, working long hours, and shitting all over the street, but earned the respect of fellow officers for solving some of the most elaborate cases.
"She was tough as nails," said her partner Constable Greg McCabe. "And had one strong left-hoof and could catch any perp who was on foot or bicycle. What I liked about her was her refusal to use her taser or gun, and just trample. You know, old fashioned police work."
Despite her popularity with her co-workers, her superiors were not impressed with her behaviour. The 8 foot equine was previously investigated for skimming apples from a drug bust in 2012, but the investigation was halted after several witnesses disappeared.
"After 27 years on the force, I've never seen anything like it," explained Sgt. Julius Maloney. "She was wild right out of the gate. She may have been right about how the Hell's Angels hiding heroin in the daycare, but she sure as shit didn't need to barrel over those suspects. Tugging on her reins was no use. After that, I was up to my ass in paperwork and complaints. We had to transfer her to crowd control."
According to sources, the Chief was demanding Murney turn in her saddle.